About Us
FRS Farm Relief Services
About FRS Farm Relief Services
Who We Are
FRS (Farm Relief Services) are a farmer-owned co-operative organisation established in 1980 for the provision of skilled people to meet customer requirements.
Our Objective
To provide the skills and services, which customers need to manage their farms efficiently, effectively and successfully.
Our Commitment to Quality
frs is committed to providing a top quality service to farmers.
frs operators are selected and trained to the highest standards to meet the needs of farmers.
Applicants are accepted onto the frs contractor register only after successful completion of evaluation and supervision.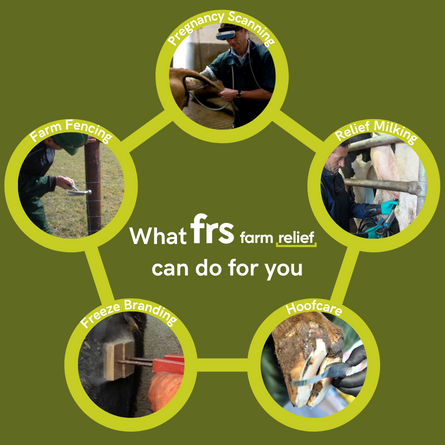 We are proud to be a part of the FRS Network*
"Providing the people you need when you need them"
Why Use FRS Farm Relief Services?
Reputable Quality Service
Cost Effective
Book an operator only for the days required.
Operator works the hours requested by you at a flat rate per hour.
No hidden costs.
No advertising, recruitment or employee costs for you
– such as PAYE, PRSI, employers PRSI, holiday pay etc.
Fees paid to frs are fully tax deductible.
General Farm Labour
Slurry & Fertiliser Spreading • Topping • Hay & Silage Making
Moving & Herding Cattle for TB Testing/Dosing • Tractor Driving
…and many other farm tasks.
Our Membership Benefit Scheme
FRS Membership Benefit Scheme provides peace of mind and reduced farm service rates for only 81c per day – annual membership is €295 (inc vat). It includes a unique Sickness & Accident Support to farmers, 10% Cheaper Farm Services Rates and Death & Capital Benefit.
Click here for further information on the FRS Membership Benefit Scheme
Management Services
Full farm management service available – many of our operators are qualified farm managers.
How to use FRS Farm Relief Services
1. Contact your local frs office and outline your requirements.
2. The co-ordinator selects the most suitable local operator to service your needs.
3. On completion of the work the operator completes a docket – a copy of which is left with you and a further copy is sent to the frs office.
4. A detailed Invoice is sent to you. All fees, including annual membership, are paid directly to your local frs office.
Farm Responsibly and Safely with Frs Training
*FRS Network is a co-operative organisation established in 1980 for the provision of skilled people to meet customer requirements. Through growth and diversification FRS have expanded into five distinct divisions intrinsically linked through the supply of expertly skilled people and innovation – farm services (www.frsfarmreliefservices.ie), fencing (www.frsfencing.ie), recruitment (www.frsrecruitment.com), training (www.frstraining.com), and Herdwatch (www.herdwatch.ie) , with a network of 20 offices nationwide.