Taking Care of Hooves
We provide a nationwide curative and preventative hoof trimming service to farmers
Read More
Taking Care of Hooves
We have been taking care of hooves since the early 1980's providing a nationwide curative and preventative hoof trimming service to farmers, in fact FRS pioneered the first hoof care training in Ireland. We established this outstanding management aid to reduce lameness issues for thousands of farmers throughout the country and our skilled hoof care technicians apply the 5 step Dutch Hoof Trimming Method.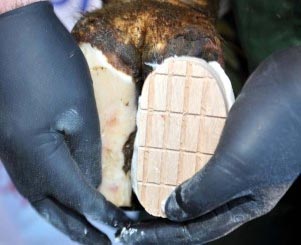 Lameness is costing you money
We recommend regular hoof checks and trimming to prevent hoof issues arising
Preventative Hoof Care
The purpose of Preventative Care is to identify and treat ailments before they become apparent clinical cases.
This will help prevent losses associated with reduced productivity and in culling severe cases.
Preventative Hoof Care involves the visual inspection of all cows for early diagnosis, and to ensure weight is evenly distributed between and across claws.
Experts recommend routine trimming/paring at least once a year, but twice a year would be more ideal.
Curative Hoof Care
Curative Care involves the elimination of apparent lameness issues.
Curative trimming needs action immediately on first observation of lameness.
Specialised Skill
Hoof trimming is a specialised skill.
frs hoof care technicians are fully trained and insured.
frs expertly assess the necessity of a foot block.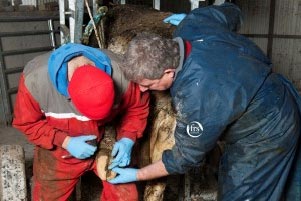 Why is Hoof trimming so important?
The principle of hoof trimming is weight transfer. Cows should carry equal weight on all eight claws.
Most sores in the claws can be cured by paring and taking the weight off the affected area. Rubber or wooden blocks are sometimes used to aid recovery, which are available to purchase through your local FRS Co-op.
The hind outer claws carry more weight and as a result are more prone to lameness.
Curative paring is the only effective treatment for the majority of lame cows.
Preventative hoof care will help to prevent lameness problems occurring.
Preventative hoof care also requires the adoption of a good foot bathing regime.
Hoof trimming should be done in conjunction with a routine foot bathing regime
Expertly Trained & Skilled in the 5 Step Dutch Hoof Trimming Method
Observe your cows for signs of lameness and take action immediately
Prevention is better than cure
Lameness is costing you money:
Lower milk yields.
Higher culling rates.
Reproduction problems.
Poor body condition.
Cost of lameness: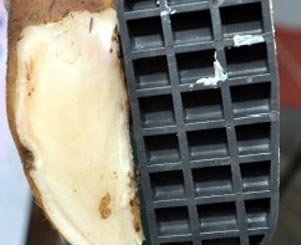 Direct costs of Lameness:
Vet/Hoof trimmer.
Farmers time.
Milk withdrawal.
Milk loss.
Weight loss.
Different types of lameness have different associated costs e.g. solar ulcer is much harder to heal than Mortillaro and would have higher treatment costs.
Indirect costs of Lameness:
Culling.
Reduced heat.
Cost of extra service.
Average cost of a lame cow = €290
Observation & Stages of Lameness
Observe cows walking in yard or on roadways:
Cows walking stiffly- Stage 1 lameness.
Cows with slight limp- Stage 2 lameness.
Cows with severe lameness- Stage 3 lameness.
Observe cows during milking:
Wash cows feet;.
Check heel of claws for Digital Dermatitis legion – treat immediately.
Overgrown claws – hoof trimming is required.
Significant difference between inner and outer claw – Hooves need to be trimmed to distribute weight evenly.
Join the Membership Scheme
With Sickness and Accident Support