By John Brosnan, FRS Network
Following all the recent publicity on the recent 26th Conference of Parties or COP 26 in Glasgow and the many goals and targets set, one could be forgiven for thinking that the future for agriculture as we know it looks bleak, but is this really the truth? Are there opportunities in all of this proposed change? How does agriculture play its part in producing more with less?
The answers may lie in the bioeconomy, a relatively new term in the agri-food context. The bioeconomy effectively means the most efficient use of all biological resources in a circular and sustainable manner, moving away from 'take, make, waste' to a cascading value chain with the food system at the centre.
According to the European Commission, the bioeconomy encompasses "the sustainable production of renewable resources from land, fisheries and aquaculture environments and their conversion into food, feed, fiber bio-based products and bio-energy as well as the related public goods." In other words, production of fine chemicals and biological pharmaceuticals first, followed by food and food ingredients for human consumption and feed for animal consumption, cascading down to higher volume but lower value products such as chemicals and energy. Most of these have the added benefit of replacing fossil-based alternatives.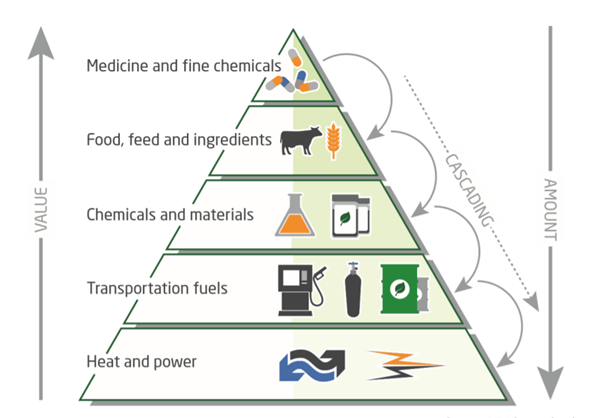 In practice, elements of the bioeconomy are already embedded in society and in our food systems, but more can and is being done. This will be of benefit to both primary producers and consumers alike. A lot of research has found its way from paper to pilot, and soon to commercial scale through innovative European partnerships involving academia, and public and private partners. Many pilots or exemplar demonstration sites exist across Europe which are now being showcased due to their huge potential.
In Ireland there are a number of pilot studies well underway. One of the most promising of these is 'Biorefinery Glas', a partnership between academia (Munster Technological University and University College Dublin), industry (Carbery Group and Barryroe Co-operative) and specialist equipment manufacturer Grassa BV.
This innovative project demonstrated the ability to unlock the potential of 'hidden hectares' by processing surplus grass on-farm in a mobile biorefinery, leaving a press-cake silage behind on-farm for ruminant consumption (in line with a food/feed first principal). Crucially, high value protein concentrates are extracted which can be fed to monogastrics (pigs and poultry) as a potential replacement for soya.
There is also the potential to extract some of these proteins for human nutrition or cosmetic applications. The liquid fraction left behind is suitable for use as a liquid fertiliser or for further processing in an anaerobic digester. The potential benefits are shown in the diagram attached.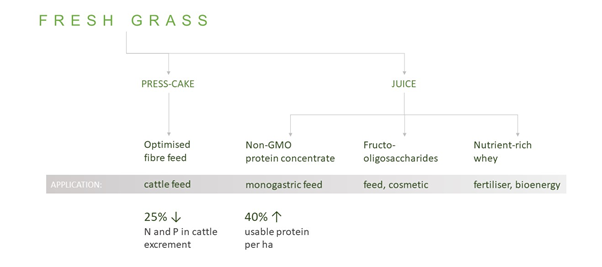 This single project shows great promise in delivering new economic activity and indeed new business models and supply chains whilst delivering climate and environmental benefits. More information on this project can be found on www.biorefineryglas.eu.
Why are we not seeing more examples of these projects? We soon will be hearing more, the EU 'COOPID' project for example is designed to showcase exciting Bioeconomy projects across Europe and to disseminate information to all stakeholders, fostering Bioeconomy 'clusters'.
National and EU policy on the bioeconomy is increasingly leaning toward the greater inclusion of primary producers and COOPID is an important project in this space. This project can be seen in detail on the COOPID website, www.coopid.eu. To learn more, look out for the annual programme of events dedicated to all things bioeconomy during National Bioeconomy Week each October or by checking out the Irish Bioeconomy Network or Biorbic websites. Expect to hear more of the bioeconomy and of how farmers and rural communities can participate and flourish through what can only be described as cascading our way out of a crisis.