Marking its 8th year at the Tullamore Show 2023 the popular 'Farm Safety Live' is set to bring interactive demonstrations on safe quad bike driving to event visitors. With quad/ATV training becoming mandatory in November 2023 FRS Training, Health & Safety Authority (HSA) and FBD Insurance will be placing this important work vehicle front and centre of their collaborative Farm Safety Live event on the 13th of August in Tullamore. Organisers of the show are lending their support that will bring live demonstrations throughout the day at stand L100.
In addition to the quad bike, tractor and livestock safety demonstrations will also be running in a bid to give practical safety tips that can be easily applied back on the farm to make everyday operations safer.
Over the last 10 years (2013 – 2022) there have been 10 fatalities in agriculture involving quad bikes. With the highest number of fatalities on Irish farms coming from vehicles (45%) of which 53% were tractors and 12% were quads these are two of the main safety focuses with regard to vehicles on the day. As cattle account for 18% of fatalities the event will also demonstrate the safe handling of livestock in an engaging way.
The new quad bike regulations that become mandatory in November 2023 include the introduction of compulsory helmet wearing and training for operators and visitors can find out all the information they need to know to get compliant at the event. We all need to do our bit to keep farming as safely as possible and attending Farm Safety Live is a great way to keep informed.  
Peter Slattery, Manager with FRS Training said; "We welcome the forthcoming regulations for quad bikes which will see all users requiring formal training in a bid to improve the safe use of these vehicles on farms and other work environments. At Farm Safety Live, we will highlight the need for safety in an engaging way by giving safety tips to people working with quad bikes, tractors and livestock."
Ciaran Roche, Risk Manager with FBD Insurance invites all attendees at the Tullamore Show to come and view the demonstrations at the Farm Safety Live arena. He said; "We are particularly pleased to be shining a spotlight on safe use of quad bikes this year. We hope that this will provide farmers with useful information in advance of the impending legislation around quad bike use. Changing our usual way of doing things can be challenging, but we must always be conscious that farming is a tough and demanding occupation with plenty of workplace hazards. It's time to review our farming practices and to stop taking risks."
Pat Griffin, Senior Inspector for Farm Safety with the HSA stated that; "All farms rely on tractors, quads and other vehicles to carry out work on the farm, but the operation of these vehicles continue to lead to fatal and serious injury. Visiting the Farm Safety Live stand hosted by FRS/FBD/HSA will give you critical information on the risks you face in the operation of these vehicles and show you how these incidents can be prevented on your farm."  
Joe Molloy, Chairman with the Tullamore Show said; "Tullamore Show executive is delighted to have the Farm Safety Live demos at the show this year and to highlight the importance of farm safety messages to our visitors. This year with the focus on quad bikes and chances to win some prizes we are sure it will be a great draw for all."
For your chance to win tickets to the Tullamore Show and to keep informed keep an eye on the Farm Safety Live Facebook page: www.facebook.com/farmsafetylive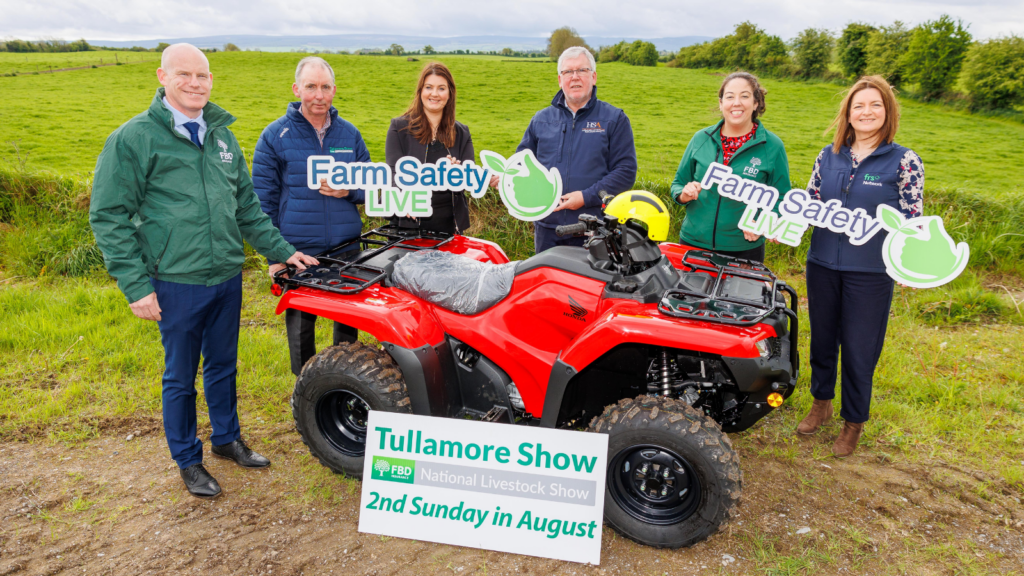 Pictured at launch of Farm Safety Live taking place at the Tullamore Show on 13th Aug 2023 are; L to R: Ciaran Roche, Risk Manager, FBD Insurance, Joe Molly, Chairman, Tullamore Show, Chelsey Cox, Secretary, Tullamore Show, Pat Griffin, Senior Inspector for Farm Safety, HSA, Mary B Dunphy, Marketing Manager, FBD Insurance and Jane Marks, Marketing Manager, FRS Network.