FRS Farm Relief are a well-known name in most farming homes throughout Ireland. With offices nationwide FRS are strong employers and are seeking farm workers to join regional teams this spring, with part-time and full-time job opportunities available.
Being an FRS operator is a flexible role, which suits many people such as; young people looking for experience, those with spare capacity outside of their own farm or work, dry stock farmers and women who want flexible hours and work close to home.
Hear from an FRS operator
Christina Carroll has been an FRS operator since 2018. Christina initially studied in Kildalton Agricultural College, but an accident threw her off course. She said:
"When I finished school, I studied at Kildalton College as a I was very interested in working with horses. Unfortunately, during work experience I had a bad accident and was advised to change career path."
Growing up Christina was always interested in animals and agriculture. After her accident, and thinking she was not able to pursue her original career choice, Christina 'got stuck in a rut'.
"I got an office job, as like everyone, I had bills to pay. I never intended on staying for so long, but I was in employment with them for 14 years. Farming was always something I wanted to get back to, wasn't sure how."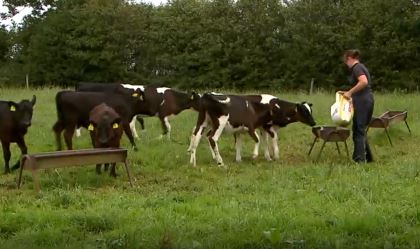 Taking a chance with FRS
Looking for a change, it was an episode of Ear to the Ground, a part-time farmer and a phone call that put Christina onto her journey of becoming an FRS.
"I seen an FRS operator on an episode of Ear to the Ground. Similar to me, she didn't have much experience but was working on a farm and loved it. It inspired me and planted the seed. A while later, a local farmer that mentioned he used FRS Farm Relief and I should give them a call. I did and was delighted that I contacted them. They were very encouraging, listened to my concerns and put me at ease. My first step was trying out some milking in the evenings and I loved it from the get-go. I decided to give up my office job and become an FRS operator."
Christina is currently working as an FRS operator on a neighbouring dairy farm. With 117 cows expected to calve down, they are busy preparing for the coming months. Since joining the farm two years ago, Christina has learnt a lot of valuable skills.
"It depends on the time of the year, but I would do general farm work. Now it's Winter feeding but of course, there is milking, herding and grass management. Calf rearing is another big task, and then sometimes I'd spread slurry or fertilizer when needed. You learn on the job and there is a great community of people around to help or offer advice. You'd be meeting people on a farm so it's a nice way to get to know new people."
Recommending FRS
Although Christina did not need much training, FRS provides training to new operators that need to be upskilled. For those of you considering becoming an FRS operator, Christina had these encouraging words.
"For anyone thinking of going into farm work – just go for it. It is very interesting. Even though the tasks might be the same, every day is different. I find it very flexible and can could fit it around other commitments. There is always work available, it's a secure job. It's great being out the fresh air too, great exercise! If you like animals and the outdoors, then it's definitely worth a try."
Christina is just one of the many farmers currently working as an FRS operator. If you are interested in switching careers or supplementing your income by becoming a FRS operator visit www.frsfarmrelief.ie/careers and fill out an application form online.
Read more FRS articles here.